Church of our Saviour Christ
The first church in Walmersley "the Church of our Saviour Christ" was built by public subscription , and first opened for Divine Service on Friday morning, 20 April 1838. It was consecrated by John Bird Sumner, the Lord Bishop of Chester, on Friday afternoon 21 September in the same year. The Reverend Thomas Carter was the first minister.
In 1839 it was decided to build a school in connection with the Church, to be used as a Day and Sunday School. The outlay was not to exceed £450 for the building of the same.
Little is known up to the year 1872 when the Parish Magazine was introduced. The Vicars during this period were:
1838-41 Thomas Carter
1841-46 James Geoffrey Hornby
1846-54 A H Hulton
1854-65 Thomas Ramsbotham
1865-68 J Russell Walker
1868- Charles Wyatt Smith
100 additional sittings
December 1881: It has been decided to make some additions to Walmersley Church, by building a chancel, organ chamber and vestry, to repair the nave and re-seat it, so that (it is hoped) there will be about 100 additional sittings.
To carry this out it is estimated that a sum of £3,500 or £4,000 will be required: and we shall be glad to receive from you whatever you may be disposed to give: and where it is preferred, subscriptions may be paid by instalments.
March 1882: A faculty was obtained for the proposed enlargement and restoration and the work has commenced in earnest.
July 1882: It has been decided to pull down the whole of the walls of the old church, and to erect an entirely new building. By this plan the gallery will be done away with, and the nave will be extended in length towards the schools.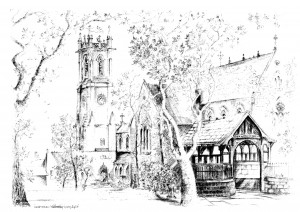 19 September 1883: The consecration of our new church took place this day. The church was well filled, and a large number of clergy assembled. The Lord Bishop of Manchester preached. The luncheon was well attended with 160 sitting down. Tickets were 3s 6d each. The church at evensong was completely filled. The sermon was given by the Venerable J Russell Walker, Archdeacon of Chichester, and formerly Vicar of Walmersley.
from Extracts from Christ Church Walmersley Parish Magazines 1866-1990
edited by W A E Dighton and H J Bamford